by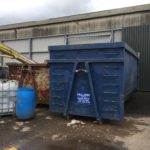 For all your scrap metal and recycling collection, get the best commercial skip hire in Frodsham from Fallon Bros. With a wide range of skips to suit your needs, we can help you select exactly the right one. Our services include both commercial and domestic skip hire and our customers can avail of a temporary one-off hire or an ongoing arrangement according to their convenience. Skips are open receptacles that can be filled with waste or scrap and then loaded by means of a crane onto a truck and then transported to the designated disposal area. They're used to transport domestic and industrial waste, scrap metal, construction debris and new materials, garden-waste, landscaping materials and soil to the required site.
If your business generates large amounts of scrap metal, our skip hire and recycling collection services are available to assist you throughout Widnes and Cheshire. In Frodsham, commercial skip hire may be offered by several services, but it's important to select the right one. We have been in the business for more than four decades and are fully registered scrap dealers. Our customer base has grown and expanded completely through word of mouth recommendations and references from delighted customers. As an ethical and professional recycling company, we provide very competitive rates for your scrap and there are no hidden costs. We are in compliance with all current regulations. Our collection service includes old car batteries and cables, alloy wheels, copper, nickel and alumiunium scrap, discarded household appliances, wrought iron gates and fencing.
Commercial skip hire in Frodsham from Fallon Bros provides you with a range of skips to suit your needs. There are many different types of skips available with us. Standard 12, 16 and 18 cubic yard skips, 25 and 30 yard and larger 40 cubic yard skips and roll-on/off skips in various sizes can be selected according to the size, weight and volume of your load. For more information about our available skip hire, and a free, no-obligations quotation, contact Fallon Bros.  You need to make a thorough assessment of your load and then inform us about the dimensions so that we can suggest the right fit.