by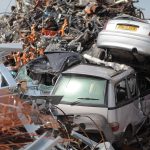 Vehicle recycling in Woolton is a very big deal for everyone and we know that first hand. We are an authorised end of life vehicle recycling centre. When we opened for business in 1979 there were about 20 million cars on the road. The numbers increase as years go by. There are about 38 million cars on the road in the UK today. Most of them were manufactured within the last 15 years. So where did all those millions of old cars go? We know that many of them came through our vehicle recycling facility. Somewhere between 70% and 85% of a vehicle is recyclable. We strip each car down and separate out the various recyclable parts like plastics, batteries, tyres, copper wiring, and more. That leaves the metal framed structure which is crushed and compacted into a metal block for recycling.
If not for recycling, we wouldn't be able to sustain a healthy environment and continue to own vehicles. For all the cars in Woolton, vehicle recycling is the only alternative to landfills. The sheer volume of cars and the toxicity of some components is cause enough to negate landfills as a solution. Leaving old cars sitting around your driveway or in junkyards is not a permanent solution. There is a demand for the recyclable materials from automobiles and the bits that are not recyclable often contain hazardous materials. That material is carefully contained and disposed of in a designated landfill area. Our team and our facility must meet safety and environmental standards in order to continue operations.
Vehicle recycling in Woolton is easy and profitable for the customer seeking to dispose of a junk car.  Contact Fallon Bros and we will quote you the price we will pay you for your old car. If it doesn't run, we'll come and tow it away. In addition to paying you for your junk car, we will also provide you a Certificate of Destruction. That's your proof that you are no longer responsible for the car and that you disposed of it appropriately. We pay some of the highest rates for old cars. Our recycling operation accepts most all scrap metals and we pay fair prices for all that is brought to us. Metal and old car recycling is a win for everybody. About 25% of your next new car will be manufactured using recycled metals.