by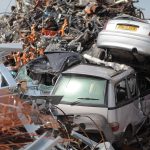 For a scrap metal clearance in Skelmersdale, get in touch with Fallon Bros Ltd. Not many people realise the intrinsic value of metals, in all its types and forms. However, if you have a facility that regularly generates metal waste or produces metal by-products, you can easily make some extra cash by selling it to a reputable scrap metal collector. We have been in the industry collecting metals at very competitive prices for over 40 years, and we are proud to be recognised as the scrap metal specialists.
We provide a professional recycling service to all of our customers from the general public to industrial and commercial businesses. In Skelmersdale, our scrap metal clearance service is perfect if your facility is closing down. We can help you clear all of the metal products such as machinery, industrial vat, broken vehicles and more. If you have defunct products as well, we can take these too. We will pay top prices for both ferrous and non-ferrous metal and vehicles in the area. Wherever you are located, our team at Fallon Bros will not hesitate to come and collect the scrap metal. We have all the necessary equipment to help with heavy loads. We are registered scrap metal merchants, and we have an amazing facility at our disposal. If you require skips, we can also provide you with one that will suit your needs. You'll be pleased to note that we also collect domestic scrap as well; it does not matter how big or small your scrap is, we will take it!
Take advantage of our competitively priced scrap metal clearance in Skelmersdale to get rid of the old car sitting in your yard, or the huge amount of pile of scrap that is taking too much space in your yard. For more details about our scrap metal clearance services, contact Fallon Bros today. We will be happy to come to your assistance, and remember, recycling is good for the environment! By recycling your old car or large industrial items, you are helping to save the earth from being depleted of its natural resources.