by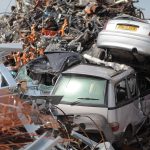 When you need vehicle recycling in Warrington, think of us. Actually, when your old car is no longer reliable, your first thought may be to wonder how much, if any, money you can get for it. So you try to sell it, but there're no takers. Then you figure you would make more money if you just parted the car out; sold the parts separately. It's amazing how many people respond with enthusiasm to your ad on the website. But after two weeks, you've talked to ten people and none of them actually have the need or the money for your spare parts. Maybe, if you can get the thing started and running, a dealer will take it as a trade in for another car. Turns out it would cost them more to get rid of it than it's worth. Now what?
You can't just shove it off the end of the pier and hope it sinks to the bottom. In Warrington, vehicle recycling is your best bet of making any money off that car. It's also, apparently, the only way you're ever going to get your name off of the car as the owner and therefore liable for it. You've wasted a lot of time and energy. One call to us and we will pay you for the privilege of towing it out of your driveway. We are licensed and approved to accept end of life cars. We bring your old car to our recycling centre, strip it down and sort the parts for recycling. There are some bits, like upholstery fabrics, that are not recyclable and maybe toxic. We are registered to dispose of any toxic waste in environmentally controlled landfills.
Actually, most of the car is suitable for vehicle recycling in Warrington. Contact  Fallon Bros and we'll give you a price for the car over the phone. We'll make arrangements to tow it for you if it's not running. Once that's all done, we issue a certificate of destruction to you. That is your proof that you are no longer liable for the car and that it was disposed of in an environmentally safe manner. We have been in the scrap metal business for over 40 years. We accept all ferrous and non ferrous scrap metal from all sources; domestic, factory clearouts and commercial. We serve the whole of Cheshire and are gratified by the trust and loyalty our customers have shown to us through these many years.