by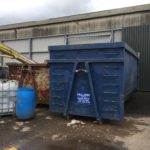 There are many reasons for contacting scrap metal dealers in Newton le Willows. Two of the most important are recouping money from waste metal and protecting the environment from pollution. We pay the top prices for ferrous and non-ferrous metals and vehicles. As registered scrap metal merchants we will come and collect your scrap metal wherever it is located. The prices paid for scrap metal often change daily so contact us to find out the day's metal prices and get the best deal. Non-ferrous metals do not contain iron and will not corrode or rust and we pay highly competitive prices for items like alloy wheels, copper and lead. We have excellent on-site recycling facilities for all types of metals and vehicles.
If your car has reached the end of its life in Newton le Willows, scrap metal dealers will buy it from you and correctly dispose of it. You will receive a Certificate of Destruction which absolves you of any further payment of Road Tax on the vehicle. The hazardous chemicals are removed from the vehicle before it is recycled. These fluids are then carefully disposed of in a responsible fashion. We also accept white goods and all types of cables. Some of the less common metals we purchase are zinc, brass, and nickel, aluminium, lead and bronze. Most metals can be recycled and there is no reason for them to be discarded in general waste to end up in a land fill where they could pollute the environment.
We are proud to be recognised as one of the top scrap metal dealers in Newton le Willows. Contact Fallon Bros today and discuss your requirements with us. We have over 40 years experience in the scrap metal recycling industry and since being established in 1972, the company has grown through word of mouth and recommendation. Offering some of the best prices in the North West for scrap metal, we provide a professional recycling service to all our customers. Do your bit for the environment and ensure use the services of a responsible scrap metal dealer to recycle your scrap metal.