by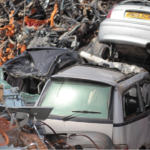 Vehicle recycling in Huyton is an environmentally conscientious and ethical thing to do. There is no point leaving an old vehicle to rust and take up space in your yard. You cannot just dump it either. If you need guidance on what to do about your old vehicle, speak to a registered scrap metal merchant. We offer a range of scrap metal services, including scrap metal recycling, vehicle recycling and scrap metal skip hire. If you need assistance with recycling your old vehicle, don't hesitate to give us a ring. We take recycling seriously and will ensure that your old vehicle is correctly and ethically recycled.
We will dismantle your old vehicle and the parts of the car that can be re-used are set aside. In Huyton, vehicle recycling is an excellent way to protect our natural resources. This is done by ensuring all environmentally unfriendly vehicles are destroyed properly and then re-used. As we are scrap metal specialists, we adhere to all the required health & safety and environmental regulations set out by the regulating bodies. With over 40 years of experience in the scrap metal recycling industry, our company has grown through word of mouth and recommendations from past clients. We offer some of the best prices in the North West for scrap metal, so this means that you will receive a fair and honest price for your scrap vehicle.
Vehicle recycling in Huyton is an important service. You can make a little extra cash by selling the scrap metal, and you will do your bit for the environment. As the prices of scrap metal fluctuate daily, it is advisable to speak to us about the price you will receive from the scrap metal of your vehicle. If you are interested and would like more information on how we will recycle your vehicle, contact Fallon Bros today. We also offer a scrap collection service where we can collect the scrap metal from your property. We are happy to accept both ferrous and non ferrous scrap metal for recycling. By making use of our services, you can be sure that your old vehicle is removed from your property, correctly recycled, and end up with a little extra money too.